We make a significant impact
We are driven by the prospect of making a real contribution to lowering the climate impact associated with the world's need for electricity.
2011 – After seeing that many of his earlier ideas have been turned into successful businesses, Jan Skjoldhammer decides to put his focus on an idea that will soon be called NoviOcean wave energy converter (WEC). With the ambition to make a major positive impact for the environment, he puts an early stop on his long and successful career as an airline pilot to put all his focus on his entrepreneurial career.
2012-15 – To be able to not repeat the failures of many other marine energy concepts who have just followed an idea, very strict requirements was set from early start. It should be lighter, simpler, stronger, more durable, based on proven components, have high survivability and not the least, provide immense power.
After countless sketches and a prototype that did not meet the strict criteria, Jan is finally happy with the result. The design which checks all criteria with good margin! The large rectangular float based on a sketch made 35 years ago, combined with the "Inverted Hydro Power Plant at Sea (HPAS concept)". Our cleantech solution, NoviOcean, is born!
Jan Skjoldhammer & Douglas A-26 Invader after Atlantic crossing, 1988
2016 – After an earlier successful entrepreneurial endeavor in property development business, Jan invests more freely in his idea and time with the dream of offering a highly accountable and cost-effective renewable energy technology to the world. Novige AB is officially founded. Two international patents are in place, and collaboration with three Swedish universities begin.
2018 – Since 2016, a total of 30 MSc students and 6 professors have contributed to the development of NoviOcean WEC. Dry lab physical tests were successfully completed, conducted at KTH Royal Institute of Technology, Stockholm, validating the concept and working principles. Design, construction and testing of the 1:5 scale prototype (with reference to the 500-kW unit) is ongoing. In 2018, Novige becomes a member of SynerLeap and the business incubator Create.
2019 – The core team has now grown to 3 on full-time basis, plus many more on part-time. The prototype has been manufactured, with the PTO and the rectangular float being separately tested. The control system and software has also been developed and the whole unit has been deployed offshore in the Stockholm Archipelago for 6 weeks in November/December to test the performance, survival and control capabilities. With about 1 mEUR internal and external investment and more than 26,000 man-hours of work so far, we are now producing electricity from waves for the first time.
2020 – It was an exciting year for our team! Via the MaRINET2 programme (call 4), we could get the opportunity to test the NO1 prototype in COAST Lab., Plymouth, UK which allowed us to further demonstrate many technical aspects and identify the necessary improvement points in the system. In 2020, we also received valuable sponsored consultancy support and business coaching from Marine Energy Alliance (MEA), Swedish Institute for Standards (SIS), and BlueInvest. By the end of the year, we got 0.9 MSEK financing from Vinnova to further test and develop our concept, engage with early customers, validate subcontractors, and do a thorough market analysis for our concept. Also, the team is now known as the Mission Innovation Champion, Guldstänk's Innovator of the Year, and the holder of the European Commission's highly accredited Seal of Excellence.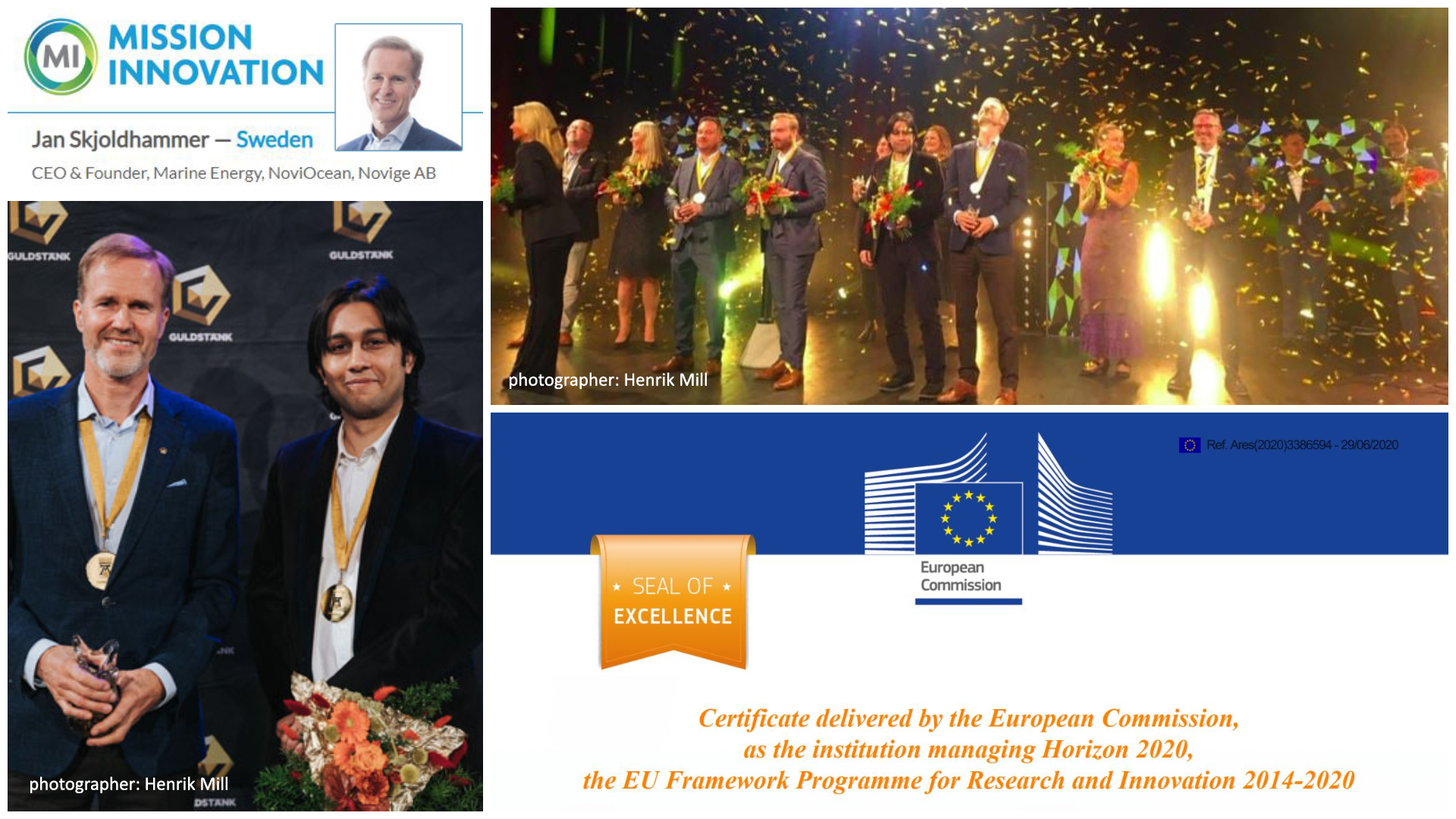 2021 (Q1 & 2) – In early 2021, the Novige team received 4.2 MSEK financing from the Swedish Energy Agency to further develop the NoviOcean concept. Stena Line's propeller prize was added to the list of our awards and recognitions and we also got the opportunity to once again test our improved scaled prototype (called NO2) in ECN's LHEEA wave tank under the support of MaRINET2 (call 5). The test results were very promising as they demonstrated that the full-scale unit can reach its full potential (500 kW) in 3.5-meter waves and higher. We are excited to see that the team is expanding once more to accommodate the requirements of the ever-increasing complexity we will be facing in our journey forward. Much more exciting news is on the way in a couple of months...
The way ahead – After successful tank testing and offshore testing of our prototype and validating all of the aspects for NoviOcean's functionality and performance, we will apply our learned lessons to developing our first pre-commercial full-scale 500-kW device, the NO500. The rest of 2021 and 2022 will be devoted to the design of our first full-scale wave energy device, followed by construction in 2023 and open-water deployment and testing in 2024. 2024/25 is our estimated time to launch our first pre-commercial full-scale NoviOcean wave energy converter to demonstrate how we plan to "save the climate with profitable wave power".
Jan Skjoldhammer - Founder and CEO
Jan is Novige's founder/leader and the creative mind behind the unique NoviOcean concept. Jan's leadership capabilities and business acumen go hand in hand with his well-developed technical skills and innovative mindset. Aside from the strategic decision-making and being the face of Novige AB, Jan has been deeply involved in all technical and practical issues related to the development, scaling up, and validation of the NoviOcean technology. He has been recognized as Sweden's Mission Innovation Champion of 2020.
Danial Hassani - COO
Danial majors in both renewables and business administration. He is experienced in project management of numerous utility scale renewable energy and other highly complex industrial projects. On the business front, Danial brings the knowledge of business plan development, knowledge management, multi-criteria decision-making, risk assessment, market/customer evaluation, competition analysis, etc. to Novige AB. Danial's techno-economic modeling and lifecycle assessment skills are also of great importance to the team.
Danial Hassani - COO
Danial majors in both renewables and business administration. He is experienced in project management of numerous utility scale renewable energy and other highly complex industrial projects. On the business front, Danial brings the knowledge of business plan development, knowledge management, multi-criteria decision-making, risk assessment, market/customer evaluation, competition analysis, etc. to Novige AB. Danial's techno-economic modeling and lifecycle assessment skills are also of great importance to the team.
Stefan Björklund - CTO
Stefan holds a PhD in tribology and has worked a long career as an associate professor at Royal Institute of Technology (KTH) within system- and component design. He has valuable experience in design and mechanics of wave energy systems. Stefan's deep knowledge and expertise in finite element analysis, computational fluid dynamics and industrial engineering, as well as many others, is a highly valuable for Novige's technical team and makes him the natural choice as the CTO.
Anna Fägersten - PR and Communications Manager
With more than a decade of experience in management and marketing, and a successful track-record of assisting various small- and medium-sized enterprises within automotive, e-mobility, and cleantech, Anna brings a different but highly valuable perspective to the team. She manages Novige's media coverage and makes sure that we maintain an updated and active media presence. She brings more diversity to the team and creates a more gender-equal work environment.
Marcus Grünerwald - Director, Government Affairs
Marcus has over ten years´ experience as an advisor and expert in innovation management and public funding. During his career, he has focused on energy and cleantech projects and assisted in several successful applications to EU funding programs such as FP7 and Horizon 2020, and also worked closely with a wide variety of international development banks and other funding agencies. His long experience, international network and business acumen, are important additions to the team.
Niclas Bassili - Head of Mechatronics Engineering
Niclas is a Mechatronic system developer and has a master's degree in Mechatronics Engineering as well as more than 10 years of experience in electrical equipment and installations. He is well experienced in the design and development of hardware and software systems. With his passion for technology, electrical, and mechanical systems and his skills in programming and computer-aided design (CAD), he is a key player of our design team in developing the NoviOcean's control system.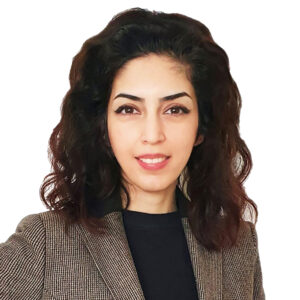 Atefeh Mortazavi - Sustainable Development Officer
Atefeh has a master's degree in Sustainable Urban Development with eight years of progressive experience in a broad range of sustainable development issues. During her professional career, she focused on contributing to the 2030 Agenda for Sustainable Development, the Sustainable Development Goals. Atefeh is skilled in strategic planning, sustainability assessment, and project management. Her communication and administration skills paired with her broad knowledge are of great benefit to the Novige team.
Timo Pohjanvuori - IP Manager
Timo has an extensive background within technology and been working for global market leaders and fast growing tech companies developing world winning portfolios' of intellectual property. Success within patenting is driven by skilled product management, team innovation effort and the insight that "less is more". Timo is working part time for Novige AB since 2019 and has been assisting the team in various aspects related to Novige's Intellectual Property portfolio.
Tomas Carlmark - Lawyer
As our company's lawyer, Tomas brings extensive experience in corporate, contract and intellectual property law. Active since 2008 and today one of the partners at the law firm Allians, he and his team at the lawfirm provide essential legal services and support to Novige AB.
Mårten R. Keijser
As an engineer and project member/leader of increasing levels of seniority, Mårten has gathered experience from highly complex product development projects at several large industrial companies as well as a number of startup companies and own entrepreneurial projects. He has an invaluable mix of experiences from working with leading state of the art wave energy technologies and DFP, DFA & DFM, analytical & numerical modelling, technology validation, testing, etc., all of which are perfect complements to the team.
Johan Mürer
Johan brings to the table 40 years' experience from design and analysis work in the aerospace industry. He has worked part time for Novige AB since its start until 2021. Johan's long experience in applied physics, mechanism design, development, manufacturing, and assembly, as well as numerical simulations made him an important part of the venture. He advises the team in developing numerical tools and methods as well as by identifying the improvement points in the design of the NoviOcean concept.
Anders Hagnestål
Anders holds a PhD in plasma physics but has dedicated most of his career as a researcher and assistant professor at Royal Institute of Technology (KTH) working with generator technologies and power take off (PTO) solutions for wave power devices.
Hans-Göran Branzell
Hans-Göran has a M.Sc. in engineering physics. He started his career with test programs for in pile testing of various designs of nuclear fuel rods, but later turned his interest to the manufacturing of said rods and transferred to the nuclear fuel factory in Västerås where he was responsible for designing, building, programming and maintaining various measuring systems used in the production of nuclear fuel components. Hans-Göran is now retired and still keenly interested in energy production but now sustainable rather than nuclear.
Johanna Thingwall
More than 10 years of experience as Strategic Account Manager as well as Business Relations Manager makes Johanna a valued advisor to Novige's team. Johanna's major is Business and she had relevant complementary studies in Macroeconomics and Human Resources. Johanna has also valuable skillsets and knowledge in market access and sales effectiveness which are highly relevant to Novige's venture.
Mats Andersson - Board Director
Mats has a vast experience in various industries such as marine energy, telecommunications, Security, Blockchain, IoT, etc. He is currently holding the title of Chairman of the Board in more than 7 different companies and has an exceptionally successful track record in expanding and improving the value and turnover of well known listed companies, as well as many startups and SMEs, even during challenging times and stagnations.
Jan Skjoldhammer - Board Member
Jan has a long experience as an inventor, leading to several patents and thus has a very well-developed technical side. He is also a highly skilled entrepreneur and business manager. His background as an airline captain for several years and as an officer in the Norwegian Air Force, helped him develop strong management and leadership capabilities. Jan's extensive but ultimately remarkably successful entrepreneurial endeavor in the property development business laid the monetary foundation for Novige AB.
Sara Karlin - Board Member
Sara's experience in management consultancy, business development and operations, as well as financial and executive management is of high value to our business. She studied business administration and economics at University of California at Berkley and Stockholm School of Economics (SSE) and was the first female associate in Nordic region to be promoted to consultant in BCG's fast track. Sara is also a partner in an angel investment group consulting of alumnus from SSE.