An innovation to set new expectations
High efficiency, extreme storm survivability, increased power density, and exceptional cost-effectiveness... Thanks to NoviOcean's reliance on well-proven components and strict design criteria.

Background
NoviOcean wave energy converter (WEC) concept is the result of more than 13,000 hours of independent work, 15,000 hours of student work performed at Linné and KTH universities, more than 2,000 hours of consultancy calculations and design, two global patents, and several millions of Swedish crowns of privately invested capital. We set very strict criteria for developing an optimal clean energy technology for wave power. This is the definite reason for us now seeming to have a clear advantage compared to other marine energy devices. Otherwise, we would have fallen into the common trap of just keeping on developing one "smart idea".
During the course of five years, numerous ideas were drawn and analyzed, and some were even tested in sea conditions (e.g. devices that used chains, hydraulic motors, etc.), but ultimately all were scrapped simply because they could not meet our stringent criteria: being simple, light, strong, cost-effective, and using few and well-proven components. We strive to be a good example of the following famous quote in developing our wave energy converter:
"Any intelligent fool can make things bigger, more complex, and more violent. It takes a touch of genius—and a lot of courage to move in the opposite direction."                    - E. F. Schumacher
Technology Brief
NoviOcean is a non-resonant buoyant wave energy converter that extracts energy from the vertical motion (heave) of the waves. It is essentially comprised of two main subsystems which are both unique to the wave energy industry. The "rectangular float" and the "inverted hydropower plant PTO". The HPAS concept (Hydro Power Plant at Sea) is the result of merging these unique subsystems.
The patented elongated rectangular float is designed in a way that resembles the shape of a wave. Such design makes it possible for the float to automatically align its elongated face towards the wavefront. This ensures a much larger "active" wetted area of four to ten times more than a typical round buoy.
Maintaining proper hydrodynamic properties is of critical importance in designing wave energy converters. In cooperation with some of the best minds in this area, we have undertaken sophisticated numerical models and hydrodynamic simulations which helped us in reaching an optimal design for NoviOcean's rectangular float.
The design of NoviOcean wave energy converter stands today as our preferred hybrid wave/wind/solar energy solution since it has surpassed our expectations regarding our strict criteria. Therefore, we believe in NoviOcean's disruptive potential in the blue energy sector.
We are currently stepping through the exciting journey of developing our first commercial hybrid device rated at 1 MW. The project pipeline consists of two further development projects for larger NoviOcean units rated at 2 and 5 MW, but we plan to work on them after introducing the 1 MW unit to the market and gaining more experience from it.
One of our core design philosophies behind NoviOcean wave energy converter is to rely on industrially mature components and subsystems since it enables us to have access to vast, reliable, and predictable supply chains and service networks.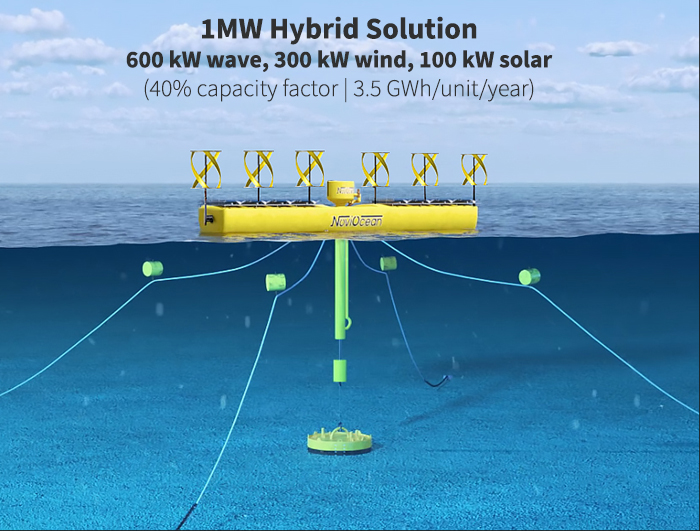 Our other patented subsystem, the inverted hydropower plant PTO (power take-off), combines two of the most robust and well-proven components that have been used in other industries for the past two centuries: a highly efficient water turbine, and a hydraulic cylinder to pump high-pressure water at high velocity towards the turbine.
Due to the simplicity of the PTO subsystem, the NoviOcean wave energy converter can easily latch the float in every wave through to utilize enormous lifting forces (up to 600 tons for the upcoming model) in order to achieve extremely high outputs. That is why we are able to use a non-resonant behavior; riding in sync with the waves, with slower speeds and simple controls to achieve extreme power output, as opposed to the more common and much more complex resonant approach.
              How the NoviOcean technology works?
In this video, we show you a glimpse of the rigorous wave tank testing and verification of numerical simulations on our NO1 prototype in the highly equipped COAST Laboratory Ocean Basin, Plymouth, UK, under the MaRINET2 initiative. Lifting 600 kg in every wave cycle, equaling 600 tons in our first commercial unit. The horizontal loads on the moorings are only 30 kg, ratio 1/20 of the lift force, a first in wave power. The tests were performed during two weeks of March 2020. The research leading to results from these tests has received funding from the European Union Horizon 2020 Framework Programme (H2020) under grant agreement no 731084.
The video above shows a part of our extensive tests at the Research Laboratory in Hydrodynamics, Energetics and Atmospheric Environment (LHEEA) in École Centrale de Nantes (ECN), France. The results show a very promising future for the NoviOcean wave energy converter (WEC) technology, proving our mathematical calculations and third-party wave2wire models. According to the results, it can now be proven that the full-scale NoviOcean unit will reach its full output in 3.5-meter waves and higher, showing the immense potential ahead. Also, our new float design proved to be an improvement over the previously simplified version by which balanced front and back mooring loads could be achieved. In the video, the unit is lifting 800 kg in every wave, which translates to approximately 600 tons in the full-scale unit. This was the second time that we were granted access to perform such extensive tests in a highly equipped wave testing facility under the MaRINET2 programme. The research leading to these results has received funding from the European Union Horizon 2020 Framework Programme (H2020) under grant agreement no 731084.
Simple to Construct, Easy Installation and Maintenance – NoviOcean wave energy converters are simple to construct. More than 50% of parts can be easily manufactured in local shipyards worldwide, which can also help improve the industrial attractiveness of local communities and create job opportunities. Moreover, rather cheap licenses will be available worldwide to enhance the diffusion of our technology at a massive scale. NoviOcean wave energy converters can be towed to site location and installed using simple equipment and ROVs. There is no need for heavy vessels to install, maintain and decommission the devices. Repair jobs can be done in place and the devices can be easily towed to the nearest shipyard if any major replacement mission needs to be performed. Proximity to shore makes our solution more environmentally friendly due to less transport which consequently lowers the CO2 emissions during installation and maintenance.
Storm survivability – Robust design and low surge forces enable NoviOcean wave energy converter to better survive under stormy conditions. Moreover, having a 30-meter stroke length makes us certain that NoviOcean wave energy converters can perform seamlessly even during the rarest, but most dangerous rogue waves, as safety, reliability and long operational lifetime are of critical importance to our team.
Reliability – The probability of a system breakdown increases with the number of components in that system. The NoviOcean wave energy converter is designed with very few moving parts relative to other wave energy device concepts and not the least compared to wind turbines.
Stable output – Fully-developed ocean waves will continue long after the wind stops blowing. There can be even no local wind, but the waves can be generated from hundreds of kilometers away. This makes wave energy less intermittent and more stable than wind or solar energy which diminishes the need for having storage options, making our cleantech solution even more cost-effective and sustainable.
Synergies Among Renewables – Offshore wind farm operators can benefit from the opportunities and synergies that a hybrid arrangement can bring to their business. Due to wind and wave resources being off-phased, the combination of the two can result in much higher and smoother yields. Improved efficiency and enhanced LCoE values are among some of the outcomes, not to mention improved operation and maintenance costs per MWh, and a more effective use of the occupied area.
Immense Power – Our initial studies have shown that if installed in waters of the Atlantic Marine Energy Test Site (AMETS), NoviOcean wave energy converters have the potential to deliver power to as high as 1200 households per installed MW capacity. Even though these numbers can change depending on the wave energy potential of each prospective site location, the figures are mostly in the same range. This is mostly thanks to the immense power density of NoviOcean wave energy converters compared to other offshore clean energy technologies. A NoviOcean array can take an area of about half of an offshore wind farm for the same capacity. Adding the fact that a NoviOcean wave energy converter is lighter and uses fewer parts, will consequently lead to a higher power density per mass.
Truly Sustainable – Almost all the parts used in NoviOcean wave energy converters are made of recyclable materials which makes it possible to recycle and repurpose them after decommissioning by the end of the project lifecycle. The local production of parts and proximity to shore can also contribute to having a lower emission factor for NoviOcean arrays. The net lifecycle assessment (LCA) emission factor of NoviOcean arrays is estimated to be approximately 0.01 tons of CO2 equivalent per MWh of produced electricity; less than a half of windpower average! This means that annual emissions avoided by generating electricity via only one MW of NoviOcean wave energy converters will be as much as 500 passenger cars. This value has been calculated considering the Atlantic Marine Energy Test Site (AMETS) wave characteristics and can be different in other locations.
Global Access to Wave Energy – Thanks to the existing regional and continental electricity grids, cheap and clean wave energy can be produced in locations with desirable wave conditions and then transferred to other countries, making it possible for all to have access to blue energy. One such example (among many) would be to generate green electricity off the coasts of Norway, and then trade and transfer it to other countries such as Sweden and Denmark which are connected to the same network.
A Combined Solution – Aside from generating electricity, NoviOcean wave arrays can be used to produce cost-effective hydrogen directly from ocean saltwater as a secondary product. In a future scenario, liquified hydrogen can be produced on-site (or onshore) when there is a surplus electricity supply due to low market demand/pricing. Since hydrogen is getting more and more attention as a sustainable fuel of the future, this can be a good opportunity to partner with and/or sell our hydrogen to oil companies as a transportation fuel. Another aspect of interest to NoviOcean team is the problem of shoreline erosion. Due to the rising sea levels, many of the shorelines around the globe are being increasingly eroded, which has forced authorities into taking mitigatory actions in order to reduce the effects of erosion on our daily lives. NoviOcean wave energy converter is a highly efficient device, which means that it can effectively convert most of the kinetic energy of ocean waves to green electricity (and/or hydrogen). As the result, areas that will be located downstream to a NoviOcean array will experience much calmer waves. That is why NoviOcean wave energy converters can be used as effective shoreline erosion mitigation measures, while at the same time producing green electricity and hydrogen for the local community; all combined!